On August 20, 2010 by
geeknixta
With
0
Comments -
Community Server
,
Quick Hint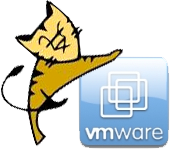 OK, so it's technically a Solr Search (used by Community Server) and VMWare Server 2.0 conflict, but both start Apache Tomcat as a Windows Service. After a reboot, you'll see one of the services hasn't started, and Task Manager will only show one tomcat6.exe running.
The conflict occurs on Tomcat startup. The default Apache Tomcat config starts the service with a listener registered on port 8005. So, whichever service starts second on Windows startup fails to start with an "Address already in use" error in the Tomcat log.
In our case, the second service was Solr Search. It meant that after a reboot, searching would not work in our Community Server communities.
The fix was to change the port, as suggested in this post (thank you, Angie Tan and Google!). But in my case I wanted to alter the VMWare setting, not the Telligent/Solr setting.
So, go to your VMWare Server's Tomacat config folder and find the server.xml file, in my case:
C:\Program Files (x86)\VMWare\VMWare Server\tomcat\conf\server.xml
And modify the line Server port tag to read something like this:
<Server port="8006" shutdown="SHUTDOWN">
Restart your services. If both services can run, go the whole hog and test a restart/recovery scenario with a full reboot, checking the Services panel and the Task Manager that everything started up OK.